BENJAMIN MOORE + KOHLER KITCHEN & BATHROOM INSPIRATION
"A series of regionally inspired kitchen and bath ideas pairing Benjamin Moore paint colours and innovative Kohler fixtures."
Take a journey from America's Northern Roots to its Southern Charm, and end up right in your own home surrounded by inspiration you found along the way. Our shared dedication to storytelling through innovation and bold colours led us to explore our country and collaborate with premier fixture maker, Kohler.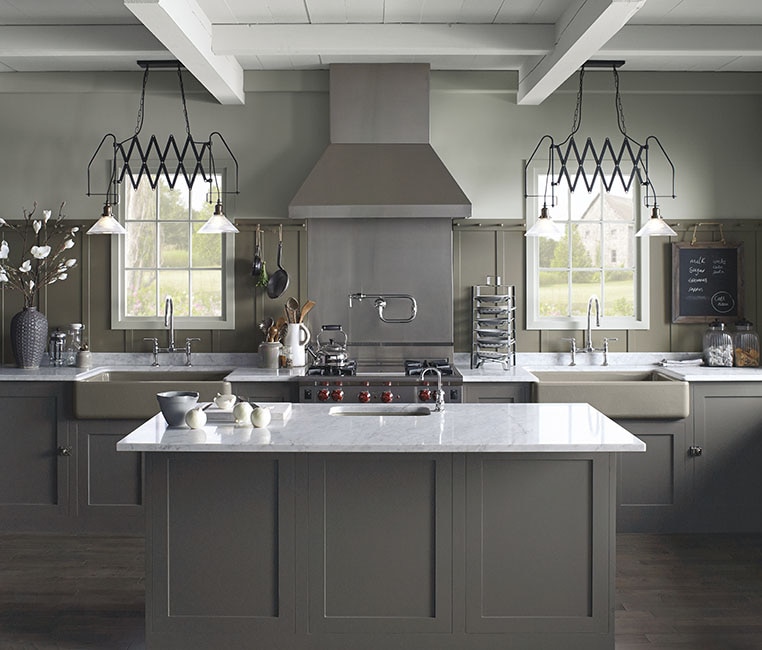 Earthy colours reflect beautifully off silver appliances, giving this Kitchen a relaxed feel. Walls are painted in Benjamin Moore's "Stonington Gray" HC-170 in the Product Aura Matte. Stonington Gray is an all-purpose silvery gray with relatively neutral undertones. It perfectly compliments the Cabinets, painted in Benjamin Moore's "Iron Mountain" 2134-30 in the Product Advance Pearl. Iron Mountain is a colour you can use-anywhere! This shade of soft black has rich undertones that complement both warm and cool colour schemes. Using the wainscoting in the colour "Sparrow" AF-720 in the product Advance Pearl, as a transition from the lighter gray (Stonington Gray) to the darker gray (Iron Mountain) was essential to tying the room together with an earthy natural feel!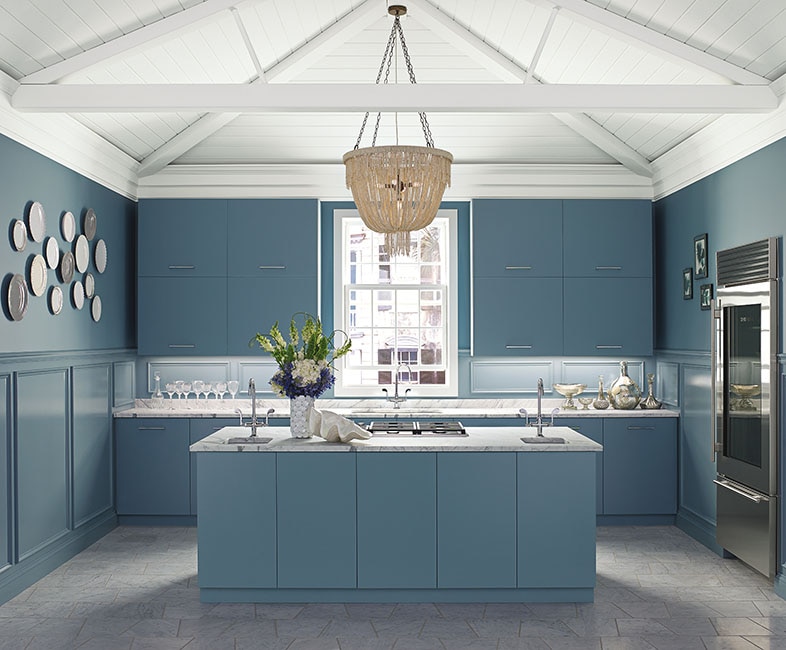 Maintaining a consistent flow of one colour in different finishes seems to be the new trend as we enter 2023. Although, seeing someone paint this in a colour other then white is quite beautiful and inspiring! Walls are painted in Benjamin Moore's "Province Blue" 2135-40 using Aura Bath & Spa, so they could have that beautiful matte finish while maintaining durability. The cabinets and raised paneling continued with Province Blue, using Advance, in the High-Gloss finish. To add dimension and let the room feel bigger, Benjamin Moore's "Baby's Breath" OC-62 was used on the ceiling in Benjamin Moore's Flat Ceiling Paint.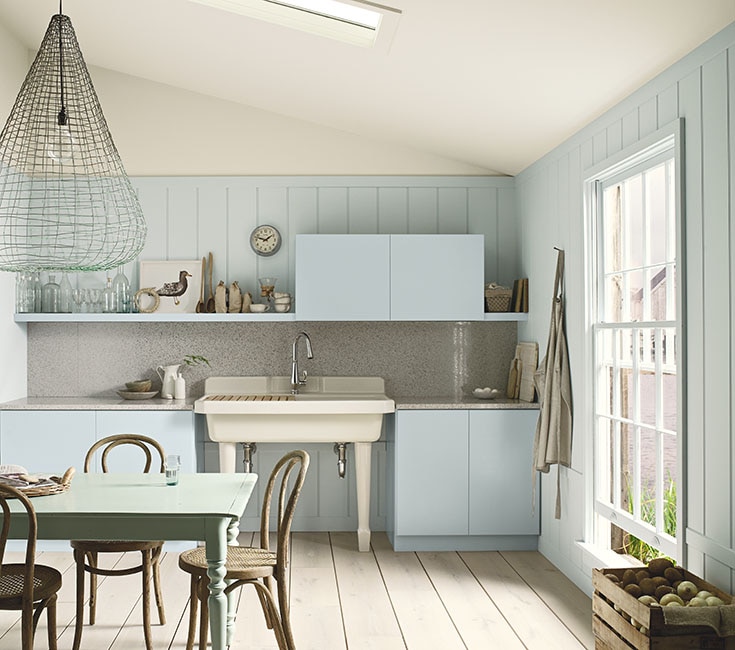 To create a more light and airy room, while not shying away from colour, using pastels like Benjamin Moore's "Iceberg" 2122-50 on the walls in Aura matte and "Breath of Fresh Air" 806 on the cabinets in Advance Pearl, creates a faint sense of dimension to the room when contrasted with the ceiling painted in "Cloud Cover" OC-25, and the white sink and floor. Adding Palladian Blue HC-144 on the table in Advance High-Gloss helps create dimension, by not only contrasting against the whites in the room but also the pastel blues. Palladian Blue is more of a green-blue, whereas Iceberg and Breath of Fresh Air are two more traditional pastel blues. Overall using the subtly of the pastels, helped build this rooms dimensions in a comfortable, safe, and non aggressive way, for when we are needing that gentle touch in a room!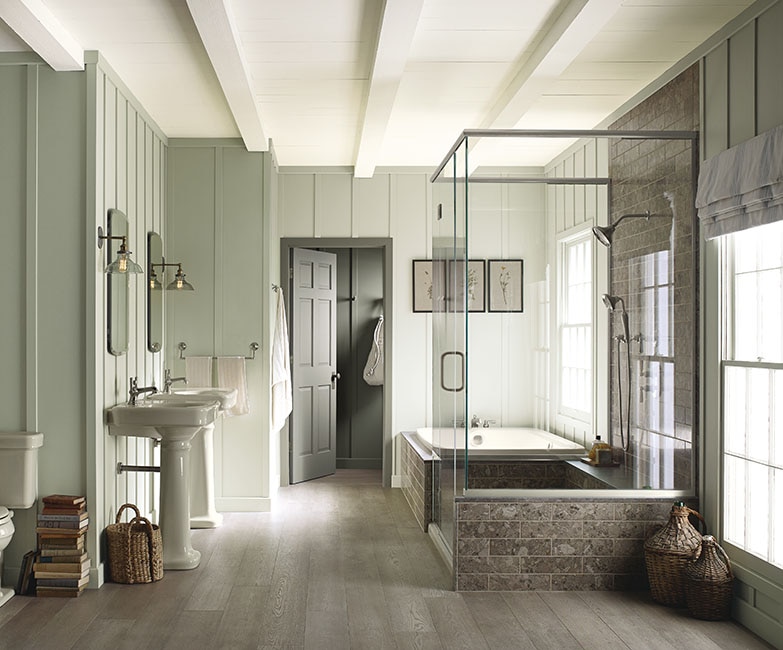 Seeing these earthy, relaxing tones and hues in this bathroom would make us never want to leave, which many may agree is probably hard enough as it is, when enjoying a hot, steamy shower. The walls are painted in Benjamin Moore's "Gray Mirage" 2142-50 in Aura Bath & Spa matte finish. Gray Mirage is a green with yellow undertones that come through making for a beautiful warm, hazy green-gray. The Ceiling is painted in Benjamin Moore's "Moonlight White" 2143-60 with Benjamin Moore's Ceiling paint. Moonlight White is a silvery green, with undertones that lend a soothing, relaxed quality making this versatile white perfect for any living space. To add dimension to this beautiful bathroom, the Door and Hallway are both painted in Benjamin Moore's "Sparrow" AF-720 with Advance Pearl. Sparrow is a unique dark gray with earthy brown undertones to continue the earthy feel from your bathroom all the way to your hallway!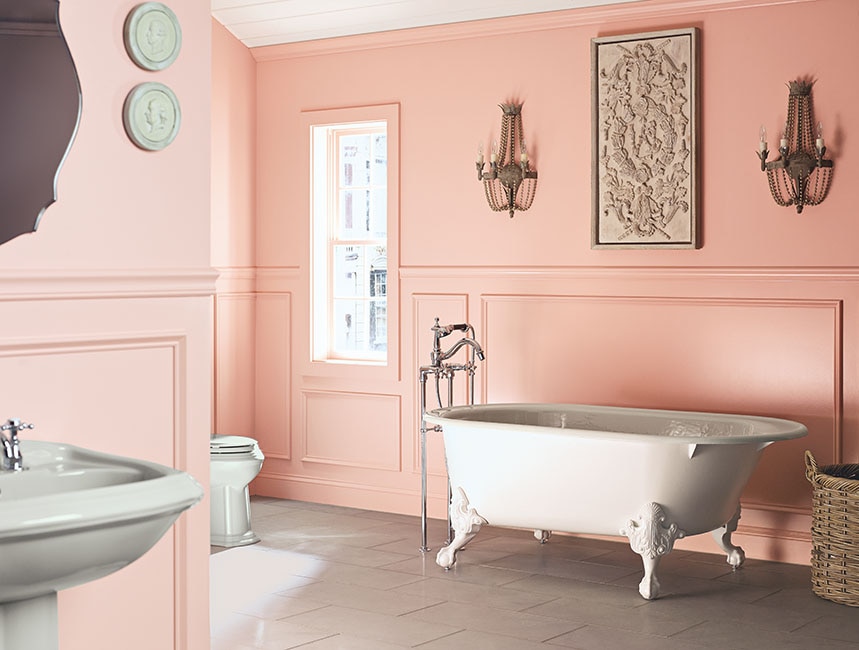 Here is another example of carrying a colour through a room! What as beautiful, fun, bright statement! Benjamin Moore's "Fruit Shake" 2088-60 painted on the walls with Aura Bath & Spa in matte and on the wainscoting & trim in Advance Pearl allows the absolutely stunning bathtub and sink stank out so elegantly! Fruit Shake is a surprisingly versatile pink emboldened by orange undertones. Such a gorgeous, fun, out of the box way to use colour!
Summary:
For The Kitchen:
Whether you are captivated by the charm and history of the South or the pale shades of blues and weathered wood found along the Eastern seaboard, we will help you bring your kitchen inspiration to life. Our curated paint palettes, perfectly coordinated with elegant fixtures, make it simple to create timeless beauty.
For The Bathroom
Update a dated bathroom by playing with different textures and finishes. A mixture of stone, glass and wood brings nature's beauty indoors. To create a dramatic contrast, pair Kohler's bold-hued fixtures, warm lighting and the finish of Aura® Bath & Spa—the world's first matte finish paint made for high humidity environments.